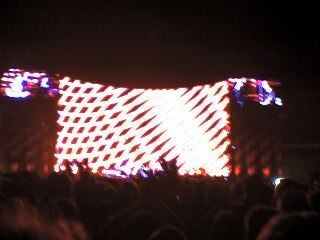 Hello hello
I'm at a place called Vertigo
It's everything I wish I didn't know
Except you give me something I can feel, feelThe night is full of holesAs bullets rip the skyOf ink with goldThey twinkle as the Boys play rock and rollThey know that they can't danceAt least they know...
An entire year has passed since the tickets first went on sale and I've just seen U2 live in concert, on Saturday 25 November.
Over the last year, I've felt at times like it just wasn't meant to happen. I originally missed out on tickets for the Saturday show because the website for ordering them crashed, then a week later again missed out on buying tickets for the Friday show over the counter after queuing for four hours. Finally success: a workmate tipped me off about a US-based concert tours company selling NZ U2 fan party packages, so I bought tickets for myself, Rochelle and Jon for the Saturday show. But then U2 postponed the shows for an indefinite period, but we were told to hold on to our tickets. Then the US tour company closed down without letting anyone know, and for a short while before the replacement company contacted me, it looked like we might have lost our money and the tickets. I think I can be forgiven for having just a bit of doubt right up until the show started over whether we were actually going to get to see U2.
Was it worth going through all that difficulty and waiting nearly a year to see my favourite band live in concert? Most definitely!
The show, which lasted two and half hours, was absolutely awesome. We were standing about a third of the way down the field in line with the centre of the stage, so we had great sound, a clear straight-ahead view of the screens and if I stood on tip-toes I could see the band in the flesh. It's a shame we couldn't get closer, but it was a sold-out gig and even though we arrived a few hours earlier the field was already half full, so we were fortunate to get as close as we did. Having watched the DVDs of the
Vertigo
and
Elevation
tours over and over again (if these had been on VHS I would have worn them out by now), I have to remind myself that it was unrealistic to expect nearly such a good view in person. But what a DVD doesn't convey is the sheer euphoria of being in the company of thousands upon thousands of people, all cheering and singing along to the songs I know and love.
I'd looked up the set lists from the Australian leg of the tour in advance so I had a fairly good idea of what U2 would play on the night. Even so, there were a few welcome surprises. The band vary the line-up of their middle section and the encores from night to night (partly to keep things fresh, and partly so that the fans who attend every gig get a bit of variety).
U2 kicked off with
City of Blinding Lights,
a song that feels like it was written as an opening number ("Oh you look so beautiful tonight"); and
Vertigo
, both off latest album
How to Dismantle an Atomic Bomb
. Then it was into the audience-participation number,
Elevation
, which went down very well with the crowd. I was absolutely ecstatic that U2 played
Until the End of the World
which is a personal favourite and had only been played on a few of the tour dates.
I Still Haven't Found What I'm Looking For
was combined to great effect with In A Little While, and Beautiful Day drew a huge response from the audience - especially when Bono sang a verse with New Zealand-specific lyrics, mentioning Cape Reinga and the Fiords seemingly inspired by his tour of the country's scenic spots over the preceding week.
Angel of Harlem
was next, followed by an acoustic version of
Walk On
, and then a spectacular version of
Sometimes You Can't Make It On Your Own
with Bono giving it his all in an emotionally-charged tribute to his late father. The big surprise for me was the inclusion of
Bad
, receiving only its second airing on this leg of the tour.
Bad
is one of those U2 songs that is rather unremarkable as an album track (on
The Unforgettable Fire
) but electrifyingly comes alive when played live. Then we had
Sunday Bloody Sunday
,
Bullet the Blue Sky
(Rochelle's favourite), a haunting version of
Miss Sarajevo
with Bono impressively covering the Pavarotti bits in fine voice; the ever-popular
Pride
;
Where the Streets Have No Name
(which in my opinion has been somewhat watered down from the
Elevation
tour version), and then to close the main part of the show possibly U2's most popular song ever, the achingly bittersweet
One
.
But it wasn't over yet. The encore teased with the slot-machine animation (which included some New Zealand-specific images), making me think that we were going to get
Zoo Station
, but no, instead we had
The Fly
in all its glory, complete with a bombardment of slogans and catchphrases, recalling the fabulous Zoo TV tour. The
Achtung Baby
theme continued with
Mysterious Ways
, and then the first encore ended with an awesome rendition of
With or Without You
. After a short pause, the band returned to the stage to play the last songs of the night - the new track
The Saints are Coming
, a rocking version of
Desire
, and then - last of all -
One Tree Hill
, which was only performed for the New Zealand concerts. The song ended with the crowd softly singing the last verse back to Bono with no musical accompaniment. In the still night air this was simply magical and an awesome way to round out a fantastic experience. We were truly at a place called
Vertigo
.